Planned Activities
Some activites that we are planning to do in the future including:
Writing a Research Data Management Plan document so that researchers are informed about the best practice of data sharing.
Organising public discussions, workshops, drop-in sessions and webinars that are related to the theme of replication, reproducibility and #OpenScience.
Strengthening our networking with similar communities in Indonesia and beyond.
Past and Upcoming Activities
So far, we have managed to organise several activities:
Organising invited talks/public discussion
In collaboration with Fakultas Psikologi Universitas Airlangga, we organised:
In collaboration with Jurnal Administrasi Kesehatan Indonesia (JAKI), we organised a public discussion on #OpenScience with Dr Dasapta Erwin Irawan (Institut Teknologi Bandung) as an invited speaker. Slides can be downloaded here (pdf) (pptx).
Organising webinars
We also routinely organise webinars discussing about advancing research quality and improving research skills. There are below our upcoming webinars. If you are interested in learning how to sign up/join in a webinar, please check our page here (in Bahasa Indonesia).
Past webinars
In collaboration with INA-Rxiv dan Sains Terbuka MOOC (Wibisana), we organised Publication Bias Webinar with Dr Mathew Ling from Deakin University & Australian and New Zealand Open Research Network (ANZORN). All materials are accessible here.
Upcoming webinars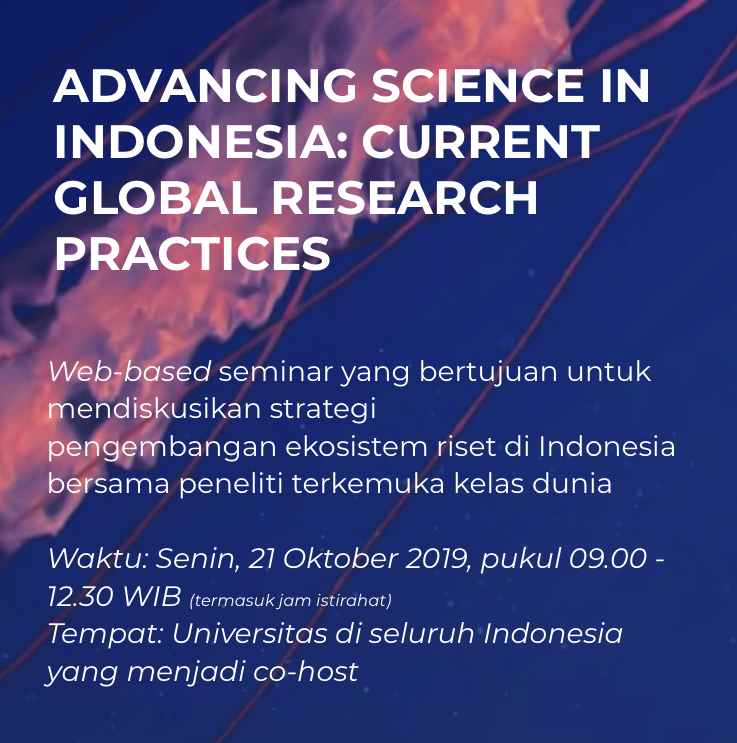 Active participation in a conference/public discussion/invited talks
Our members are also actively involved of several public discussions/talks, including:
[25/04/2019] Rizqy Amelia Zein was invited by Faculty of Medicine, Public Health and Nursing, Universitas Gadjah Mada to give a talk as one of the panelists at 5th Public Health Symposium. Slides can be downloaded here and the codes are available here.
[19/07/2019] Rizqy Amelia Zein delivered an invited talk about Self-Archiving in a workshop, which was organised by Jurnal Administrasi Kesehatan Indonesia (JAKI). She also gave the same talk in a Writing Masterclass organised by The Conversation Indonesia, which was taken place at Faculty of Psychology Universitas Airlangga (23/07/2019). Slides are available here and codes can be accessed here. The talk was in Bahasa Indonesia.